Chain Link & Vinyl Fencing Products in Pennsauken, NJ
Discount Fence Co.

856-662-3465
Residential & Commercial Fencing since 1964
Discount Fence Co. Inc.
"Good Fences Make Good Neighbors"
DISCOUNT FENCE COMPANY IS HERE FOR YOU
Discount Fence Co. has been selling and installing chain link fencing products in Pennsauken, NJ, since 1964. We have expanded our fencing with vinyl & ornamental aluminum & steel. We have experts in our sales and installation departments who can guide you on your fence purchase. Discount Fence Co. has facilities to custom make any size or type of gate. Please enter our chain link fence showroom and learn more about our company and products. Also, check out our Vinyl and Ornamental fencing. We have many new departments including privacy screening, rolling gate kits, residential and industrial hardware and parts, privacy slats and dog kennels. Contact us today to get started with our fence installation services. Thank you for visiting our site.
New Jersey Licensed Contractor
13VH00897600
Reliable Fence Companies
It's important to have a fence around your property; whether it's for a residential or commercial area, you can count on Discount Fence Co. to supply durable fencing in a variety of styles and materials. You can do many things with the proper fence besides separating your space from your neighbor's, such as adding a gate, a sliding door, and many other features. We're dedicated to giving you the privacy you need most no matter the size of your property; that is what makes us one of the most reliable fence companies in the area.

A fence is also a fantastic deterrent against crime and intruders that want to trespass on your property. The same can be said about wildlife if you live near forests or open fields where animals might get curious. Fence companies always keep their customers in mind when they get requests for fences; keeping properties secure and setting a parameter for others to see will keep families or employees safe. As our valued customer, we always aim for the best quality and are highly knowledgeable in what fences will work best for your specific needs. If you need help installing the fence, we'll happily take care of the job.

Contact us today to learn more about our products and services. We'll be more than happy to discuss further details about the fence you have in mind.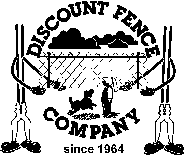 1-800-630-9720
Quality Fencing & Supplies Since 1964
Discount Fence is one of the largest fence suppliers in New Jersey for Do-It-Yourself. If you're looking to get your fence supplies & parts at a good price with expert advice, give us a call or stop by and visit us in Pennsauken, NJ 08110.

sales@fenceinc.com
Discount Fence Co.
6959 S. Crescent Blvd. (Rt. 130 S.)
Pennsauken, NJ 08110
856-662-3465
1-800-630-9720
FAX 856-665-1033